Name | Foremost Land
项目名称 | 华润置地成都锦官首著
Area | 600㎡
项目面积 | 600㎡
Location |Chengdu, China
项目地址 | 中国 成都
Client | CR Land
开发单位 | 华润置地
In this project, we talk about the comfort of the Chengdu people at heart. A site to be revived, a blank piece of rice paper, a story to be told - how to wield the ink, how to euphemistically tell it, and about its conception, ties and landings.
在这个项目中,我们从成都人骨子里的安逸聊起。一个待兴的场地,一张空白的宣纸,一个即将讲述的故事——如何挥毫泼墨,如何婉转道来,以及关于它的设想、羁绊与落地。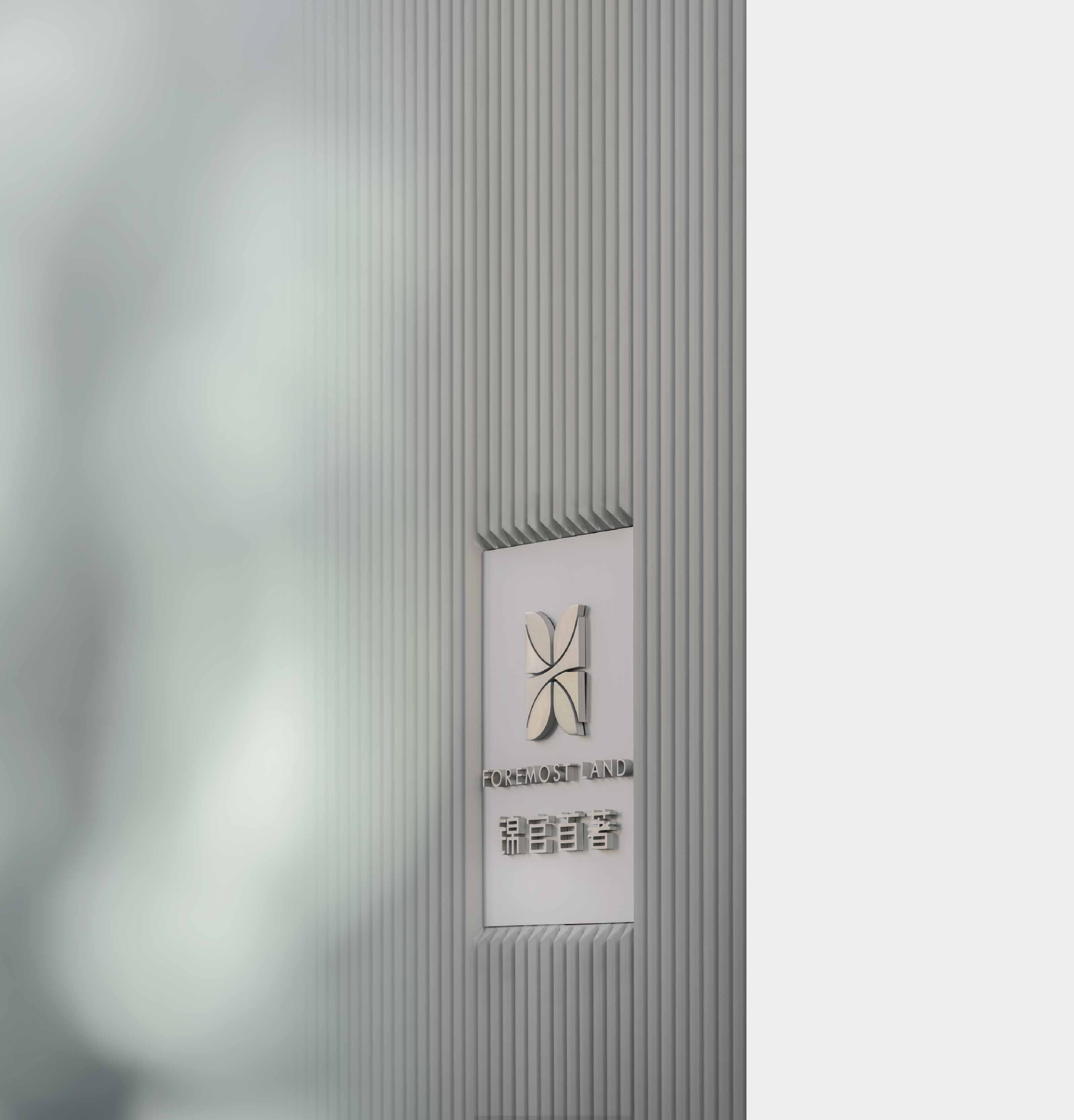 From the possibilities of the venue to the eaves of the city of Chengdu. A few bamboo chairs, a pot of tea, sitting on the patio of a Chengdu courtyard, listening to the wind in the bamboo forest and talking about the untamed sky, this is the old-school taste of Chengdu. In the space, the bamboo becomes a sense of sequence that divides the scale, and the patio becomes a skylight with an upward view, replacing the leisure and relaxation of the courtyard with the sinking of the view and position of the negotiation area. The old-fashioned wooden latticework of the window caskets is a perfect example of this. The old-fashioned wooden latticework of the windows is transformed into a modern, horizontal and vertical aluminium panel, and the space is transformed into a roofed living room with a view of the landscape framed within.
从场地的可能到成都市井的屋檐下。几把竹椅、一壶清茶,坐在成都院子的天井里,听竹林间的风,谈不着边的天,这是老派的成都味。而到了空间中,竹子成了划分尺度的序列感,天井成了向上取景的天窗,用洽谈区视线与身位的下沉代入院子给人的闲散与安逸,于此,成都的"市井气"化为了空间里游荡的"山水意"。老式木格子的窗柩,变成铝板横平竖直的现代感,在被框住的视野里窥风景,空间于是成了有屋顶的客厅。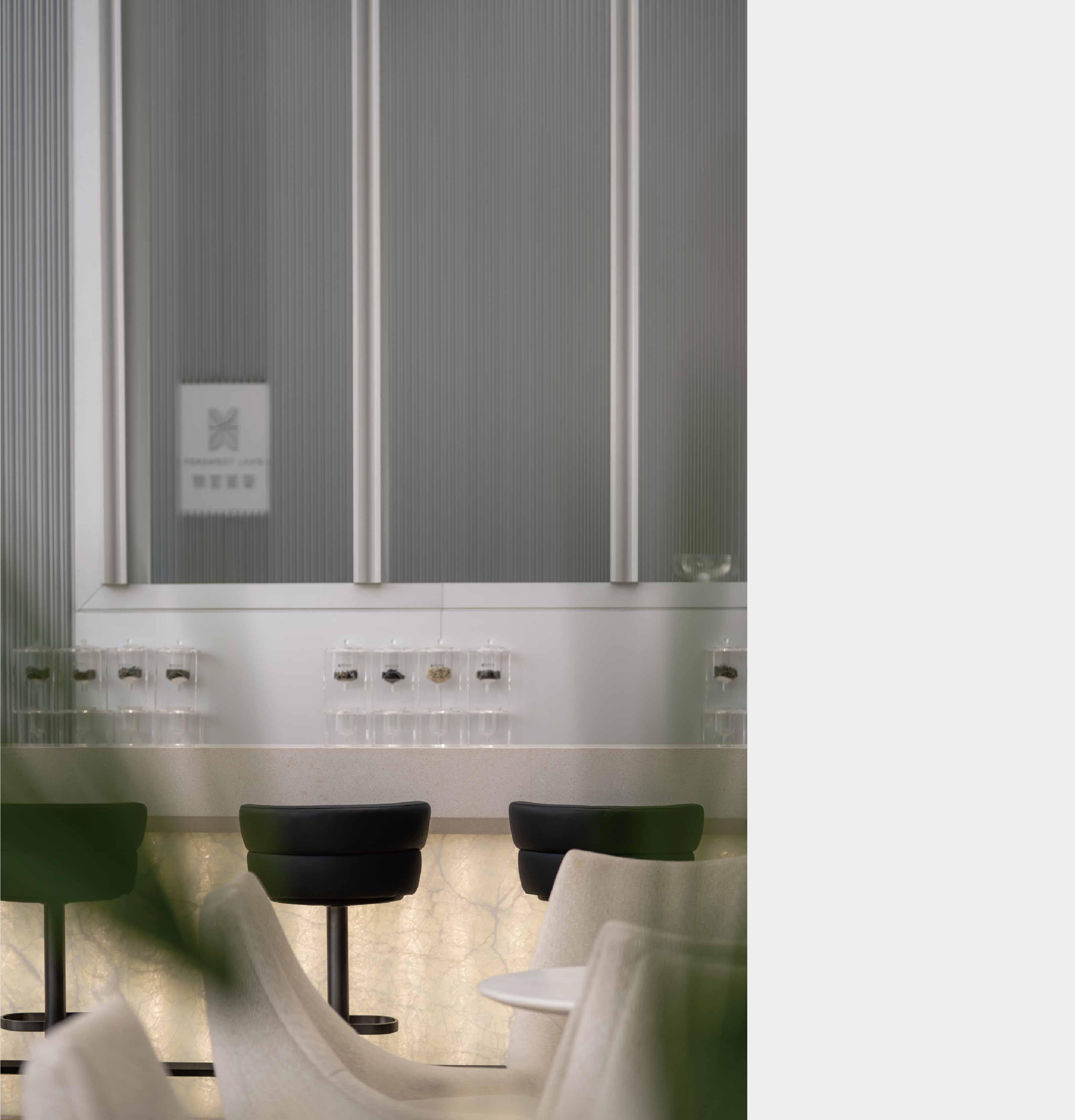 From the possibility of material to the everyday liveliness of Chengdu
从材质的可能到成都日常的生活性
The greenery of the bamboo forest and the sunlit courtyard reflect each other with today's daily life and the modern urban fabric. The design is an expression of Chengdu, but it is also an expression of life. To introduce nature, to perceive nature and to be surrounded by nature is one of the ideas of spatial organisation. The shadows of the trees and the shimmering water are reflected in each other, activating the visitors to the space to walk through it. Only then do we realise that light and shadow alone are so moving ......
绿意荡漾的竹林、阳光闲散的院落,与今天的日常生活、现代的城市肌理,彼此映生。设计在表达成都,更在表达生活。引入自然,感知自然,进而被自然围合,这是空间整理的思路之一。树影摇曳、水光粼粼,交相掩映,激活空间来客穿行其中。才发现,仅仅光影,就如此动人......